The hidden figures of Howard Tangye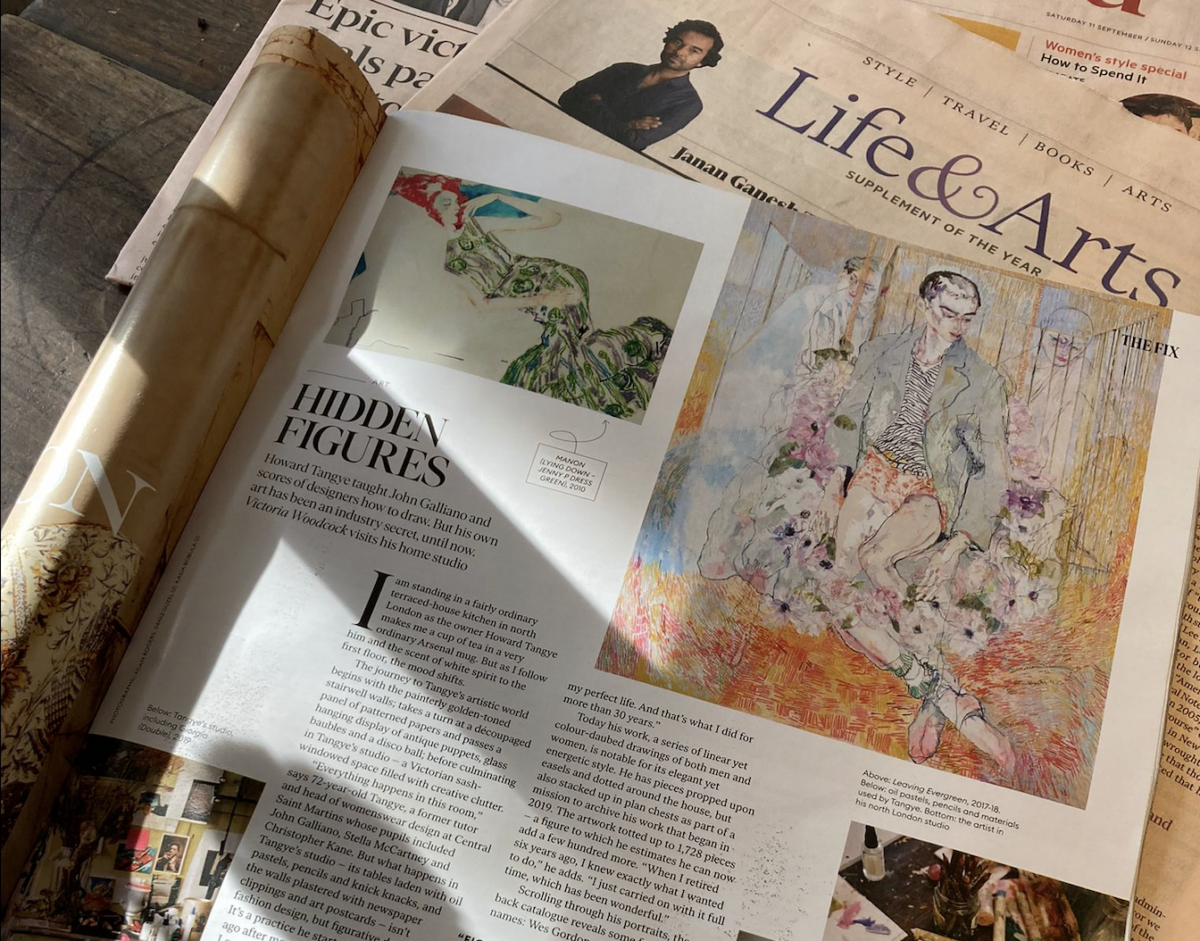 Howard Tangye featured in the Financial Times' magazine, 'How to Spend It'.
"Everything happens in this room," says 72-year-old Tangye, a former tutor and head of womenswear design at Central Saint Martins whose pupils included John Galliano, Stella McCartney and Christopher Kane. But what happens in Tangye's studio – its tables laden with oil pastels, pencils and knick knacks, and the walls plastered with newspaper clippings and art postcards – isn't fashion design, but figurative drawing. It's a practice he started half a century ago after moving from Australia to London aged 18, and enrolling as a fashion student at Saint Martins himself.
"The fashion school had a really strong drawing department and I loved the classes," says Tangye, dressed in all-navy painting attire, which just happens to be vintage Yohji Yamamoto. "I also really loved the creative aspect of fashion design and I still do." After graduating, he went to New York on a scholarship to study life drawing, "but figurative art was really frowned upon in the '70s". He later started his own fashion label, but hated the business side of it. "So when I was offered a teaching role at Saint Martins I thought it was great. I could teach and do my own drawing. That was my perfect life. And that's what I did for more than 30 years." Today his work, a series of linear yet colour-daubed drawings of both men and women, is notable for its elegant yet energetic style. He has pieces propped upon easels and dotted around the house, but also stacked up in plan chests as part of a mission to archive his work that began in 2019. The artwork totted up to 1,728 pieces – a figure to which he estimates he can now add a few hundred more. "When I retired six years ago, I knew exactly what I wanted to do," he adds. "I just carried on with it full time, which has been wonderful."
The full article is available here.