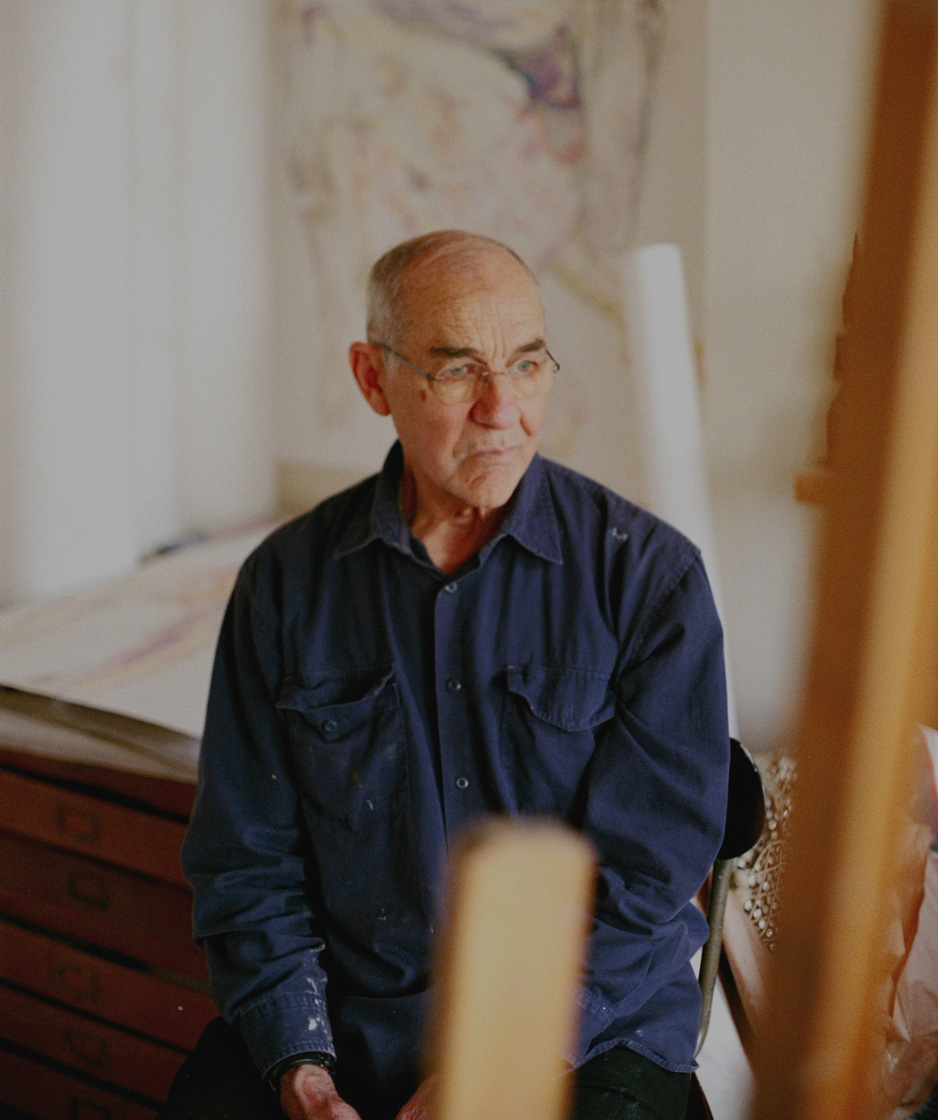 Howard Tangye (b.1948, Australia) has been an influential force in fashion for decades. Lecturing at Central Saint Martins for 35 years, including 16 years as head of BA Womenswear. There, he tutored many contemporary greats, including John Galliano, Stella McCartney, Christopher Kane, Richard Nicoll, Julie Verhoeven and Hussein Chalayan.
Tangye's work is held in many important collections, both public and private, including the Victoria and Albert Museum, The Ethelbert Cooper Gallery of African & African American Art at Harvard University and the National Portrait Gallery in London.
Tangye explores the nuances of the human form in an effort to expose the sitter's essence and energy. Employing a decisive line with bold applications of richly layered oils, pastel, watercolour, chalk and other media – these life studies articulate how the process of drawing offers a freedom to examine emotion through texture, detail, and materiality in a way other mediums are unable to.
Contact
Instagram
CV
Born 1948, Queensland, Australia
Lives and works in London, UK
Education
1976 — Parsons School of Art and Design, Post-Graduate degree in drawing, NY
1974 — Central St. Martins School of Art, BA in Fashion, Textiles & Drawing, UK
Selected exhibitions
2020
The Armory Show, New York (State) (solo)
Drawing is Feeling, State, London (solo)
2017
LINKS, Amar Gallery, London (solo)
2015
Whispers, A Project by Adeline De Monseignat, Ronchini Gallery, London UK (group)
Inspired by Soane – I Found This and Thought of You…, John Soane Museum, London UK
2014
Casting the Line, 10 Hanover (Hus Gallery), London UK (solo)
2013
Within (Paper), with Ronals Ceuppens & Gert de Keyser, Galerie Dessers, BE
2009
Art Against Knives, Charity Auction and Exhibition, London UK
2006
Following a Line, exhibition and short film, The Lethaby Gallery, Central St. Martins School of Art & Design, curated by Anna Nicole Ziesche & Howard Tangye (solo)
2005
Picture This: The Artist as Illustrator (100 Years of Drawing), The Lethaby Gallery, Central St. Martins College of Art & Design. Accompanied by a book of the same title by Sylvia Backemeyer
2002
Idyll, Kinnijoe Space, Hamberg, DE
1991-2001
Chase, charity exhibition and auction for St Christopher's Children's Hospice. Royal College of Art, London UK
Public collections
The Victoria & Albert Museum (V&A), London (56 works)
The Ethelbert Cooper Gallery of African & African American Art, Harvard University, Cambridge, Massachusetts, USA (1 work)
The National Portrait Gallery, London (3 works)